Ragians are featured in Occasionally Even the Deceiver Is Deceived, Baby.  They tried to warned Dandy about the Deathgerian present on the planet.
Appearance
[
]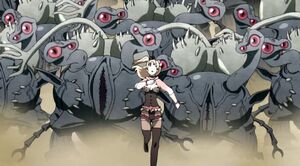 Ragians are bizarre, insectoid looking aliens. They have four eyes, one big and a smaller one on each stalk. On the head is an enormous oval shaped "mouth". The Ragians conceal their true mouth, which is little more than a mouth filled with sharp incisors and connected by a fleshy cord to the main body. They also have a multitude of arms, two "paws" hugging their heads, a grey spindly tentacle ending into five ends from a spiked protuberance from their backs. The rest are insectoid looking limbs. Ragians use their true mouth to converse.
Personality
[
]
While vicious looking, Ragians aren't as bad they look on the outside. They warned Dandy about the Deathgerian when he tried to shoot them (and failed, twice).
Gallery
[
]